.

.


1
2
3
4
5
6
7

< Page 5 of 7 >
Editor's Notes:

<> By clicking on a particular photo (or the corresponding magnifying icon), an enlarged version will appear.

<> The English text below is a translation from the original Romanian text received and posted

<> Additional translations are being sought ... We have posted so far:
---
.

VII. Group of Women Selected for Work

---
(Group de Femei Selectate Pentru Munca)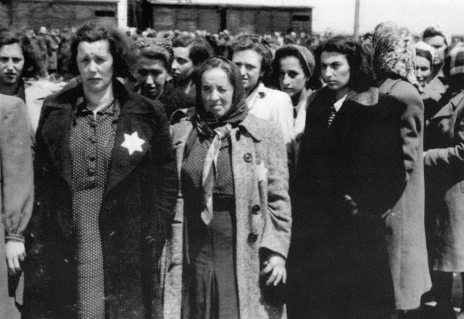 [VII-1]
On the faces and the eyes of these women selected for work, we can see their worry, anxiety, and even fear.
As if they were asking:
"When we would see our loved ones from which we have been separated?"

---
(The Original Text in Romanian)
Pe fetele si in ochii acestor femei selectate pentru munca se poate citi, ingrijorare, neliniste, chiar spaima.
Parca se intreaba:
"Oare cand ii vom revedea pe cei de care ne-am despartit?"

---
.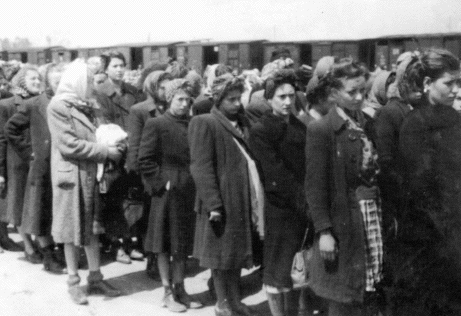 [VII-2]
Being selected for work, they began marching towards the Camp for the females.

---
(The Original Text in Romanian)
Selectate pentru munca au pornit in coloana spre lagarul de femei.

---
.

.

VIII. Towards the Gas Chambers

---
(Spre Camera de Gazare)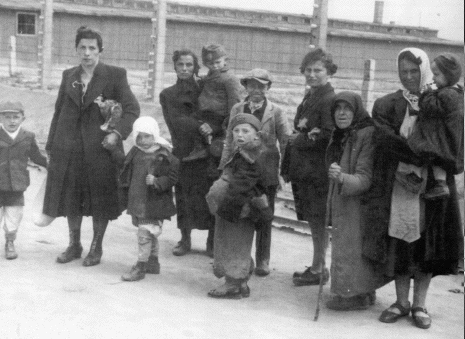 [VIII-1]
Mothers, among them one grandmother, walk (some with their children being held in the their arms, others with them being held by hand) along the railroad tracks, towards the gas chambers.
From their looks, it appears that they would think on anything, but their imminent death.
---
(The Original Text in Romanian)
Mame --printre ele si o bunica-- unele cu copiii in brate, altele cu ei de mana merg, de-a lungul sinelor, spre camerele de gazare.
Din privirile lor ai putea deduce ca se gandesc la orice, numai la moarte nu.

---
.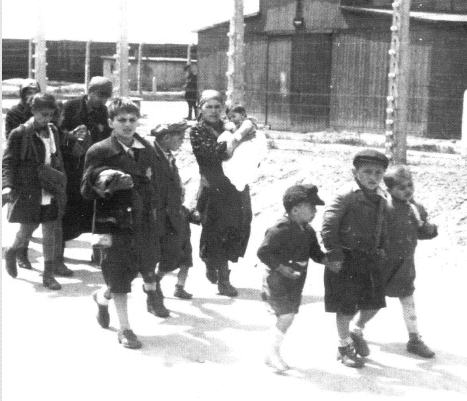 [VIII-2]
Two mothers (one with a small baby in her arms) are being surrounded by seven more children that are walking on their last journey.
It is truly heartbreaking to see the 3 boys in front. The one in the middle --who could not be more than 4 or 5-- holds tight his two little brothers so as to not get lost on the road towards ... Towards what? Towards their death!
How incredible is all this ... and nevertheless, the painful truth is that it did happen.

---
(The Original Text in Romanian)
Doua mame --una cu un bebelus in brate-- avand in jur alti sapte merg pe cel din urma drum.
Este de-a dreptul coplesitor sa-i privesti pe cei trei din fata. Cel din mijloc --care nu poate fi mai mare de 4-5 ani-- ii tine strans de mana pe cei doi fratiori mai mici ai sai ca nu cumva sa se rataceasca in drumul lor spre... Spre unde? Spre moarte! Este incredibil... si totusi acesta este crudul adevar.

---
.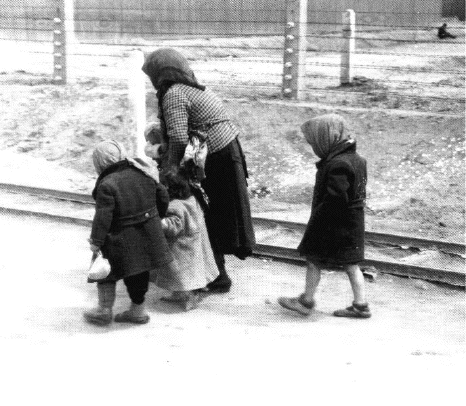 [VIII-3]
This is one of the most circulated and most known photograph. It has become the "symbol" of the journey taken --along the railroad tracks-- from the Death Ramp to the Gas Chambers. It was followed by more than one million Jews, majority mothers with children under 14, the elderly, and the sick.

---
(The Original Text in Romanian)
Este fotografia cea mai raspandita, cea mai cunoscuta. A devenit "fotografia simbol" a parcurgerii drumului --de-a lungul sinelor-- de pe rampa mortii pana in camerele de gazare. Drumul parcurs de peste un milion de evrei, in majoritate mame cu copii de pana la 14 ani, batrani si bolnavi.

---
.
.