.

.


1
2
3
4
5
6
7

< Page 4 of 7 >
Editor's Notes:

<> By clicking on a particular photo (or the corresponding magnifying icon), an enlarged version will appear.

<> The English text below is a translation from the original Romanian text received and posted

<> Additional translations are being sought ... We have posted so far:
---
.

VI. The Big Selection
---
(Marea Selectie)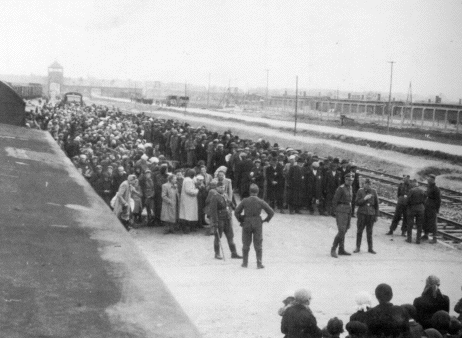 [VI-1]
Finally, the groups of men and youngsters over 14 --on one hand, and the women, mothers and children under 14 --on the other hand, are being formed into two distinct columns.
In the front of each of the two columns, the SS-men from the Commission on Selection are assembled.
The "Big Selection" for life or death is about to begin.

---
(The Original Text in Romanian)
In sfarsit, grupurile de barbati si baieti peste 14 ani de-o parte a rampei si femeile, mamele si copiii sub 14 ani au reusit sa alcatuiasca doua coloane distincte.
In capul fiecareia se grupeaza SS-istii din comisie.
"Marea Selectie" pentru viata sau moarte trebuie sa inceapa din clipa in clipa.

---
.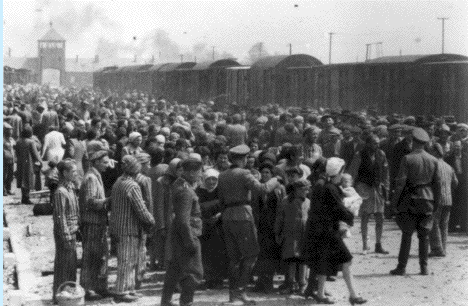 [VI-2]
Each time, the selection begins with the column composed of women, mothers and children. The younger women who hold no children in their arms are taken out from the line and directed towards a designated place where the able for work females were assembled. The rest, the overwhelming great majority of the column, advances almost non-stop to the gas chambers. When the head of the SS selection committee notes a young woman holding a baby (as seen in this picture), he, in a rather polite tone, would say something like this:
"Madame, I see next to you an elderly woman that could be the child's grandmother or an aunt. Leave the child with her so to be able to get out of this column and join those that will walk to the Camp."
Some accepted and conformed with the request, saving temporarily, without realizing, their life. Others, embracing even harder their baby, start crying and shouting hysterically:
" I am not giving up my baby. It is mine! I would rather die than being separate from my baby!"
"Madame please do not provoke panic here" responded in a calm voice the SS-man. "I did not order you anything. I just made a suggestion. If you do not want, that is fine. Please continue on your way." And the woman happy of the outcome, holds her baby tight with one hand and, with the other hand wipes her tears on her way to the gas chambers that were not further away than 500 or 600 meters.

---
(The Original Text in Romanian)
De fiecare data, selectia incepe cu coloana alcatuita din femei, mame si copii. Femeile mai tinere, fara copii in brate sunt scoase din rand si dirijate intr-un loc unde sunt adunate cele apreciate ca apte de munca. Restul, grosul coloanei, inainteaza aproape fara oprire spre camerele de gazare. Cand seful comisieiSS-ist zareste cate o femeie, mai tanara cu un copil in brate (vezi si in imagine) se apropie de ea si i se adreseaza aproape politicos:
"Doamna, vad langa d-v. o femeie mai in varsta poate e bunica ori matusa copilului. Dati-i copilul si iesiti din coloana si treceti in grupul celor care vor merge pe jos."
Unele acceptau si se conformau, salvandu-si provizoriu, fara sa-si dea seama, viata. Altele, strangand-u-si la piept copilul, izbuncesc in plansete si tipete deseori isterice:
"Nu-l dau din brate, e al meu, mai bine mor, dar nu ma despart de el."
"Doamna, va rog nu provocati panica" intervine calm SS-istul. "Eu nu v-am ordonat, v-am propus doar. Nu doriti, foarte bine, poftiti si continuati-va drumul." Si doamna bucuroasa, cu o mana isi strangea copilul la piept si cu cealalta isi stergea lacrimile si pasea bucuroasa mai departe spre camerele de gazare de care n-o mai despartea decat cinci-sase sute de metri.

---
.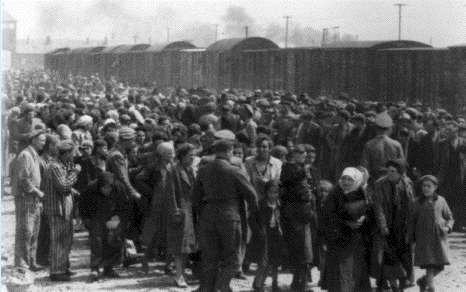 [VI-3]
The selection begins in an orderly fashion. The SS-men are calm and their tender words are able to camouflage their unimaginable evilness.
No one, but absolute no one, from the moving column, could have contemplated that with each advancing step, each and every one of them was one step closer to the inescapable end, now less than 500 meters away.

---
(The Original Text in Romanian)
Selectia decurge in ordine. SS-istii sunt calmi iar cuvintele lor "mieroase" le camufleaza nemernicia.
Nimanui din coloana care-si continua drumul, chiar niciunuia nu-i fulgera prin minte ideea ca ei, de fapt, cu fiecare pas se apropie de implacabilul sfarsit de care, acum, ii desparte mai putin de 500 de metri.

---
.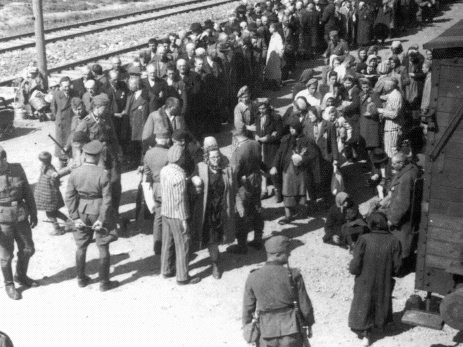 [VI-4]
The selection in the column for women, mothers and children is near completion. After a few minutes, the column for men and boys over 14 will be start moving.

---
(The Original Text in Romanian)
Selectia coloanei de femei, mame si copii este pe sfarsite. Peste cateva minute, se va pune in miscare coloana de barbati si copii de peste 14 ani.

---
.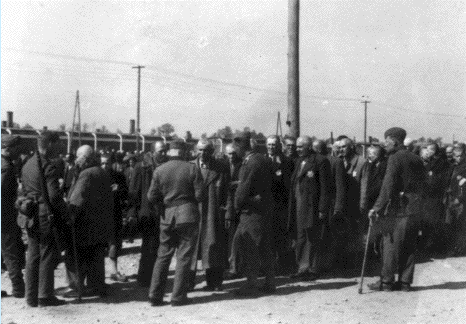 [VI-5]
The selection of men able to work had began.

---
(The Original Text in Romanian)
A inceput selectia adultilor si barbatilor apti de munca.

---
.
.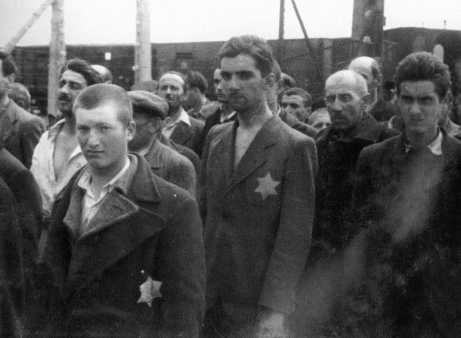 [VI-6]
A group of adults and men selected for slave labor.

---
(The Original Text in Romanian)
Grup de adulti si barbati selectati pentru munca de sclav.

---
.
.