.

.


1
2
3
4
5
6
7
< Page 3 of 7 >
Editor's Notes:

<> By clicking on a particular photo (or the corresponding magnifying icon), an enlarged version will appear.

<> The English text below is a translation from the original Romanian text received and posted

<> Additional translations are being sought ... We have posted so far:
---
.

V. The Lifetime Separation
---
(Despartirea pe Veci)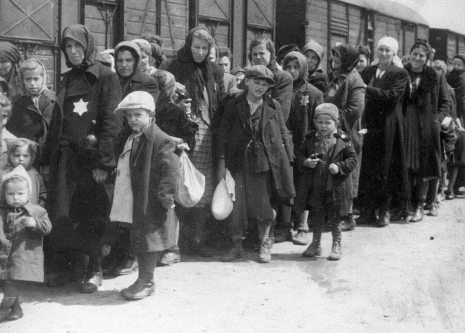 [V-1]
In no time, all mothers with their children had assembled on the left side of the ramp.
Look at the little children at the left of the picture. They look straight at you! Look at their staggering innocence that they irradiate. In a few minutes they will be marching towards their death.
Why all this? Who had the prerogative to negate the right to live of more than ONE MILLION such children that were condemned to such a fate for the sole reason that were Jewish born? What is to be done that similar such barbaric acts that cry to heavens not to repeat themselves nowhere and not ever?

---
(The Original Text in Romanian)
Foarte repede, toate mamele cu copii s-au grupat in partea stanga a rampei.

Priveste la copilasii din stanga fotografiei. Vei descoperi ca si ei se uita direct in ochii tai cu atata inocenta si iradiaza atata nevinovatie incat stiind ca-i despart doar cateva minute pana sa paseasca spre moarte, nu se poate sa nu te intrebi cutremurandu-te:

De ce? Cine si cum a putut sa anuleze dreptul la viata la peste 1.000.000 de asemenea copii doar pentru ca s-au nascut evrei? Ce-i de facut? Ce ar trebui, ce poti sa faci ca asemenea barbarii strigatoare la cer sa nu se mai repete niciunde si niciand?

---
.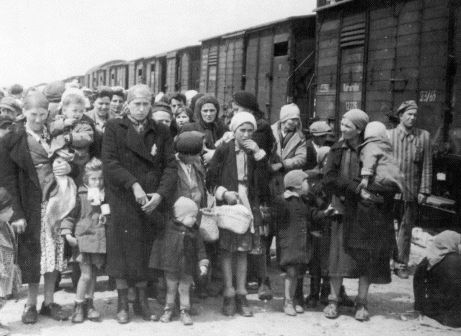 [V-2]
Here is another group of mothers with their children assembled in front of the railroad boxcars waiting to go, as they were told, to the trucks that will take them to the Camp where they will stay for the duration of the war.
The still picture cannot express, not even by a long shot, the drama that is being immortalized. Think about, if you will please, that those in this picture think that they will be together, in no time, with their families.
I must confess, that today after some 60 years, my deepest wound, that I still have, that was not able and will not be able to heal, is the one that was inflicted on the "Death Ramp" with the break up of my family.
I was separated without kissing my mother ... Without embracing my twin brothers nor the little one, Valentin ... Who could have imagined that everything that the SS-men told us was a big lie of an unimaginable cynicism, that when I was looking at my departing mother holding the hand of Valentin and admonishing my twin brothers not to stray away, I was looking in fact at my mother's last journey.

---
(The Original Text in Romanian)
Iata un alt grup de mame si copii, grupate in fata vagoanelor, asteptand sa porneasca spre camioanele care le vor duce dupa cum li s-a spus in lagarul unde vor astepta sfarsitul razboiului.
Instantaneul nu poate sa exprime, nici pe departe dramatismul pe care-l imortalizeaza. Ganditi-va, va rog, toti cei din fotografie sunt convinsi ca nu se va insera si vor fi iar impreuna, fiecare cu familia sa.
Marturisesc, ca si azi, dupa 60 de ani, rana cea mai adanca, cea care nu s-a cicatrizat si nu se va cicatriza niciodata este cea provocata de ruperea familiei la debarcarea pe "rampa mortii."
Ne-am despartit fara sa-mi sarut mama... Fara sa-mi imbratisez fratii gemeni si nici pe rasfatatul familiei, mezinul Valentin. Cine putea sa se gandeasca ca tot ce ne-au spus SS-istii a fost o minciuna de un cinism inimaginabil, ca eu, urmarind-o pe mama cum se indeparta strangandu-l de mana pe Valentin si strigand mereu la gemeni sa nu se indeparteze, eu o conduceau de fapt cu privirea pe ultimul sau drum.

---
.

[V-3]
A group of men waiting for their selection.

---
(The Original Text in Romanian)
Grup de barbati, asteptand selectarea.

---
.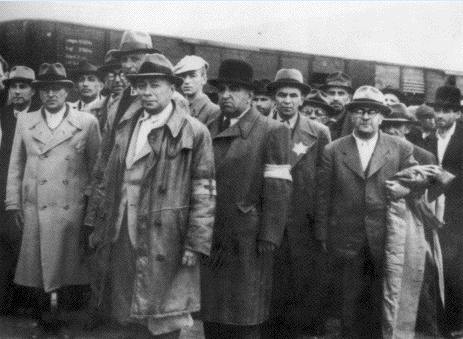 [V-4]
Another group of men waiting for their selection. Noticing that they are being photographed, they all look straight into the camera.

---
(The Original Text in Romanian)
Un alt grup de barbati, asteptand selectionarea, si vazand ca este fotografiat, si-a intors privirea spre fotograf.

---
.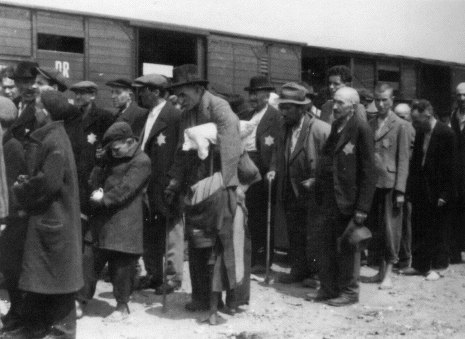 [V-5]
In this group that moves forward towards the Commission of Selection, are some that do not have any chance in being selected for work. They will be taken out and sent directly to the gas chambers. For example, the child from the first row (the second from the left) is without his mother as his father took him in his column with the hope that he will pass. In fact, he has no chance whatsoever as he --with certainty-- will be grabbed from the formation and sent straight to the crematoria.
The same fate was in store --as for many others-- for the two elders from the center of the group that are holding canes.

---
(The Original Text in Romanian)
In acest grup din coloana ce inainteaza spre comisia de selectionare sunt cativa care n-au nici o sansa sa fie admisi pentru munca. Ei vor fi scosi si trimisi spre camerele de gazare. De exemplu, copilul din primul rand (al doilea din stanga) nu are mama si tatal l-a luat in coloana cu el, sperand ca va reusi sa-l treaca. N-are insa nici o sansa. Va fi --cu siguranta-- smuls din rand si trimis la crematoriu.
Aceeasi soarta ii asteapta --ca pe multi altii-- si pe cei doi batrani din mijlocul grupului, care se sprijina in carji.
.
---
.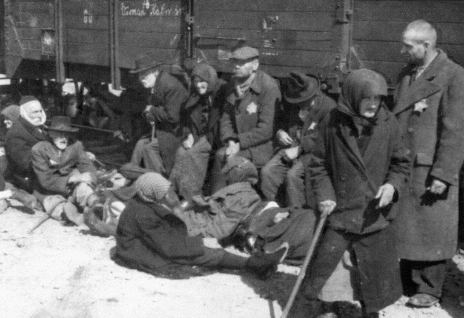 [V-6]
The grandfathers and the grandmothers, the invalids, and the sick that could not any longer stay on their feet, were grouped as well in front of the railroad boxcars waiting for the trucks to take them away.
The trucks will come, they will be taken away, but not to be transported to a Family Camp but to go straight to the gas chambers.

---
(The Original Text in Romanian)
Bunicii si bunicile, invalizii, bolnavii care nu se puteau tine pe picioare s-au grupat si ei in fata vagoanelor si astepta sa vina camioanele sa-i ia.
Camiioanele vor veni, ii vor lua, dar nu pentru a-i transporta intr-un lagar familial, ci pentru a-i duce direct in camerele de gazare.

---
.
.