Susan Eischeid currently holds the position of Principal Oboe with the Valdosta Symphony and also serves as Professor of Music at Valdosta State University. Dr. Eischeid has performed widely, both in North America and in Europe, and also played for several years with the Mexico City Philharmonic. She has appeared with the Cincinnati Ballet Orchestra and the Richmond Symphony, and is currently a member of the Eastern Philharmonic Orchestra. She received her doctorate in oboe from the University of Cincinnati and her Master of Music from the Philadelphia University of the Arts. Major teachers include the late Robert Bloom and Sara Lambert Bloom. Previous to her move to Valdosta, Dr. Eischeid taught at Wright State University and Antioch College and, in addition to her responsibilities at Valdosta, currently serves on the faculty of the summer Eastern Music Festival in North Carolina.
Concurrent with her oboe activities, Dr. Eischeid has pursued an active interest in promoting the fight against racism through the medium of music. In 1987 she began presenting recitals of Holocaust music and completed her doctoral dissertation on the same subject in 1992. She has received many grants supporting her work which include a Hilb Foundation Grant and a competitive grant from the New York based Littauer Foundation to present a series of recitals in Europe, Eastern Europe and Greece, and to further her research into Holocaust music. Annually since 2002 she has continued her research in multiple archives in Poland, Germany, Austria, the United States, England and the Czech Republic. To date she has interviewed over 35 survivors of the Holocaust and recorded their stories.
Dr. Eischeid has presented lecture/recitals of Holocaust Music in cities across the country including Norfolk, VA; Macon, GA; Tulsa, OK; Indianapolis, IN; Baton Rouge, LA; Atlanta, GA; Greensboro, NC, Harrisonburg, VA; San Francisco, CA; Columbus, GA; and Cincinnati, OH. She co-authored the liner notes for a CD of Holocaust string music released by the Colorado Chamber Players in July of 1997 (Uplifting Discoveries of a Generation Lost, CENTAUR #CRC 2342), published an article about Holocaust survivor and Berlin Kulturbund Orchestra oboist Kurt Michaelis in the International Double Reed Society Journal, and is writing a book about SS Officer Maria Mandl, who sponsored and formed the women's orchestra at Auschwitz/Birkenau. Dr. Eischeid's first compact disc (CD) of Holocaust music, Mystic Chords of Genocide, was released by the ACA Digital label in May of 2001. In May of 2005 Dr. Eischeid participated in a series of European events commemorating the 60th anniversary of the end of World War II. These culminated with a performance of Holocaust works in Passau, Germany, attended by many U.S. veterans who liberated the camps of that region in 1945. Also in 2005, Dr. Eischeid was named winner of the Christopher Browning Fellowship by the Holocaust Educational Foundation.
Editor's Note: In response to our curiosity how Dr. Eischeid got interested and involved with the music of the Holocaust, please find below what she had to say...
My Odd Path to the Holocaust Music...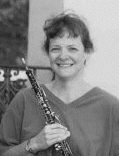 I came by my interest in Holocaust music in a somewhat round-about way... I was raised in a traditional white-Anglo-Saxon-Protestant household and never learned about the Holocaust in school until I was 15 years old. (A fact I still find appalling...) At that time, I was studying the German language and the teacher assigned me a report on the Warsaw Ghetto.
I was shocked at what I discovered and once I began reading about the subject I could not stop! This assignment sparked a life-long interest in the Holocaust. It seemed to me such an overwhelmingly important thing which had ramifications for ALL people regardless of religion, background, nationality, etc. How it happened, why it happened, why it was allowed to happen --it seemed to me that we should all be shouting from the roof tops to find answers to these questions.
As I continued into my profession as a performing musician (oboist) I never lost my interest in the subject. In later years, as I pursued my doctorate, I sought a way to combine my two seemingly unrelated interests --music and the Holocaust.
At that time (mid 1980s) very little scholarship had been done into music of the Holocaust period. I was amazed at what I found --the wealth and quality of material.
One thing led to another... I began arranging and performing some of the music I discovered and was overwhelmed by the audience response --the immediate emotional connection to these musicians who had had their voices silenced prematurely.
I began to present lectures and recitals of the topic, mostly to younger audiences, to try to educate the next generation to the dangers inherent in racism and also to give voice to these musicians so their compositions and experiences did not die. I began to research other aspects of the subject, recorded a CD of the music, and continue to present performances across the USA.
Last year I performed some compositions in Germany as part of the 60th Anniversary of the end of World War II and this coming May I will be speaking on the topic in the Czech Republic. And so it continues...
This music always gives so much more back to me than I can possibly give to it!
.